Set along the shores of Sheybarah Island, the luxury hotel will feature ultra-futuristic stainless steel villas that literally reflect the natural beauty of the Red Sea.
There are escapes, and there are isolated sanctums that bring you to another time and place, far out in the ocean and far into the future. Stainless steel spheres define the shorelines of Sheybarah Island, serving as futuristic villas overlooking the lapping waters of Saudi Arabia's Red Sea, while their reflective surface mirrors the undisturbed beauty of the island's palm trees and the intense changing colours of the sky. And it is here on Sheybarah Island that Red Sea Global (RSG) has unveiled its own luxury hotel brand: Shebara.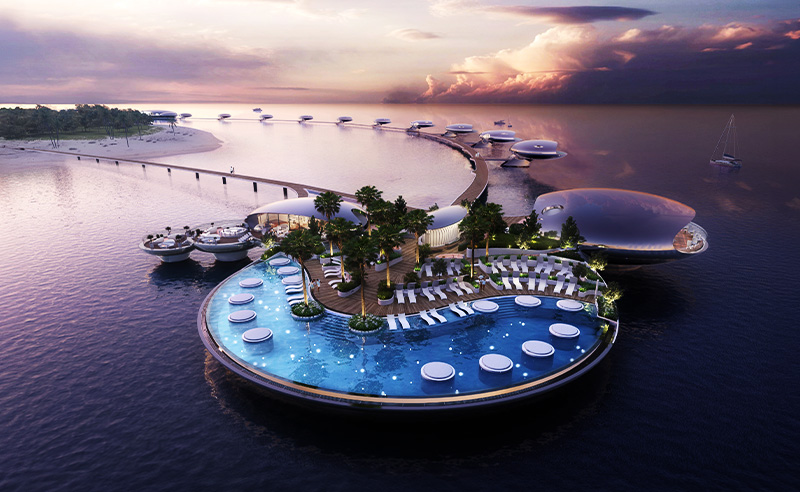 RSG is a multi-project developer known for its ambitious regenerative tourism destinations, including The Red Sea and Amaala. Shebara will be the first resort owned and operated by RSG, and will be joining other renowned hospitality brands like St. Regis, Ritz Carlton Reserve and Six Senses at The Red Sea destination.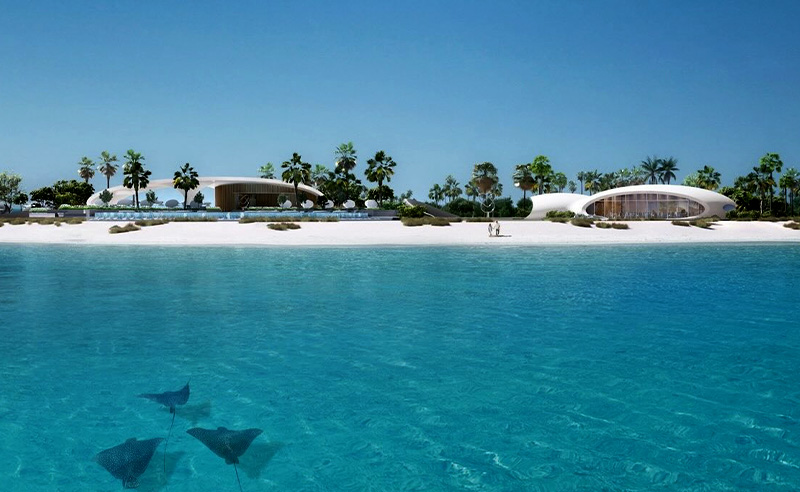 "It has long been our mission to extend our pioneering approach to regenerative tourism across a wider portfolio of brands and subsidiary companies, to create an ecosystem that will drive meaningful change in the global tourism industry," John Pagano, Group CEO of RSG, says. "Shebara is a beacon for all that RSG stands for, showcasing the very best in Saudi hospitality while setting new standards in responsible development and sustainable operations."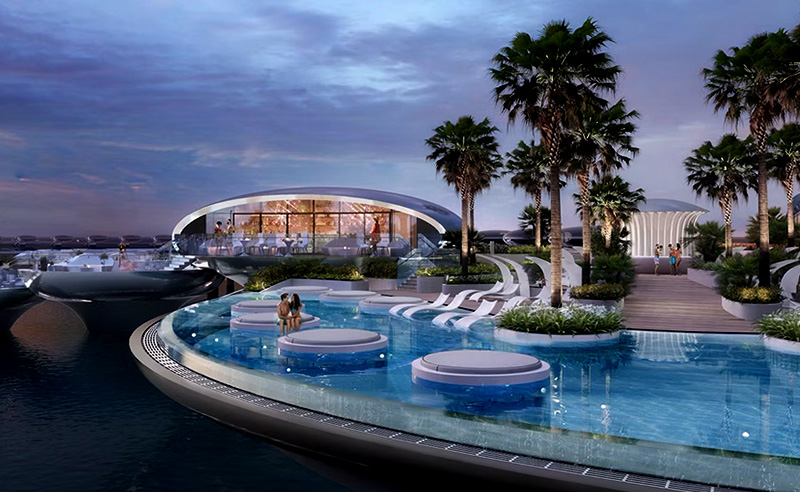 Reachable by a 45-minute boat ride from Saudi Arabia's mainland, or a 20-minute seaplane flight, the arrival point is carefully positioned in a natural break within the coral reef that surrounds Sheybara Island. The resort itself features 73 overwater and beach villas, and you can even book your own private island - all of which is powered day and night by Shebara's own dedicated solar farm, with more than 11,000 PV panels.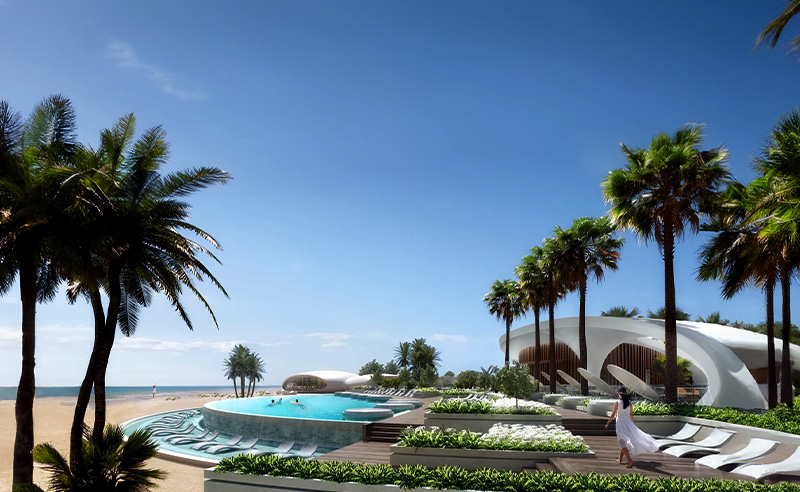 The pearl-shaped architecture is created by Killa Design, the Emirati firm most famous for designing the Museum of the Future in Dubai - a fact that perhaps explains how these overwater orbs manage to look so futuristic themselves. The orbs are cantilevered over the water, making them look like a levitating string of pearls.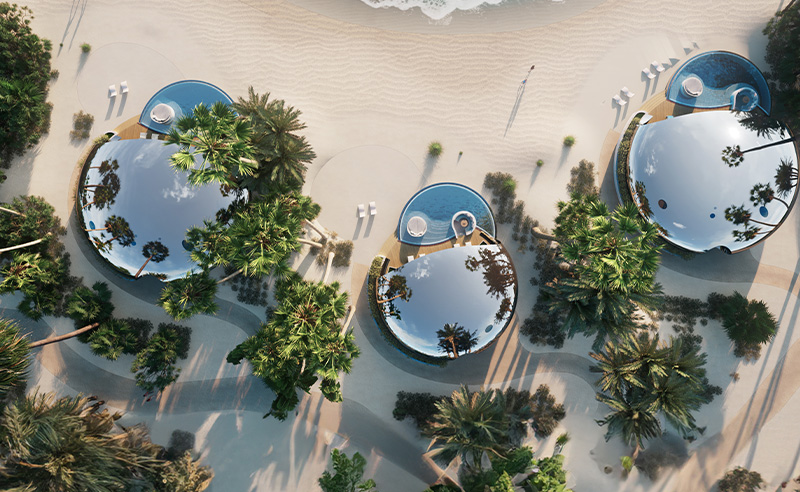 "Shebara is a wonderful example of what is possible when creating beautiful yet meaningful design. It demonstrates how innovative architecture can gracefully flow into nature, with pods that reflect and refract light from the sun, the sky and the sea to naturally blend with the environment," Shaun Killa, Design Director and Founder of Killa Design, says. "From the eco-materials chosen to the lunar positioning of the villas, our priority has been to honour the natural beauty that exists here, while creating a resort that embodies modern luxury."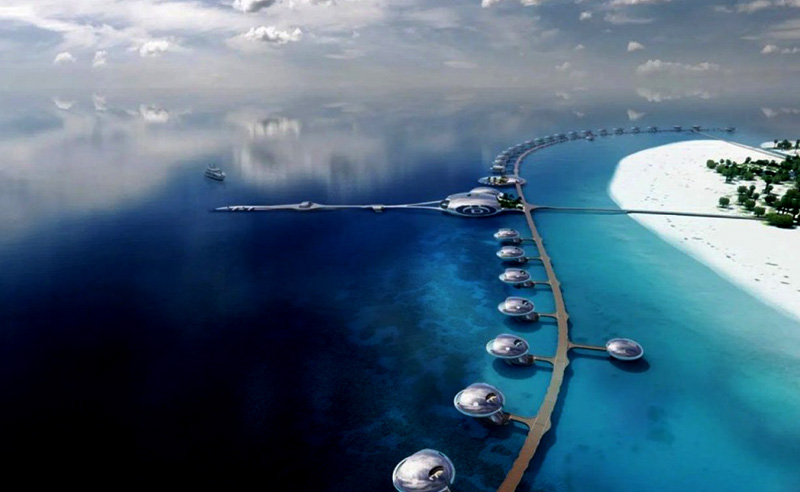 The announcement for Shebara shortly follows RSG's reveal that they are developing an exclusive island destination called Thuwal Private Retreat, which will be available only for complete buy-out. Both of these resorts will launch in 2024.