We've compiled a list of the best ways to experience this 300-year-old village, from festivals to weddings and intimate short stays.
Nestled atop verdant hillscapes of Lebanon, right by the historic Msaylha Fortress in Batroun, is the village of Arnaoon. Having stood for 300 years, the village is an immersive getaway for visitors across the country, enjoying a solid reputation as a charming venue for weddings, getaways, and events - including the three-day Aegis Festival summoning regional and international DJs and musicians over Eid Al Fitr.
Although the village itself has existed for centuries, it has been transformed into a modern venue and destination by founders Dora and Majid, whose experiences as a former school headteacher and professional chef helped to furnish a space for people of all ages to freely explore the local nature and cuisine.
From its generous spread of exquisite cuisine to carefully curated leisure activities, historical treasures and comfy glamping options, we've compiled a guide of all-things-Arnaoon for travellers to delve into its charm and history…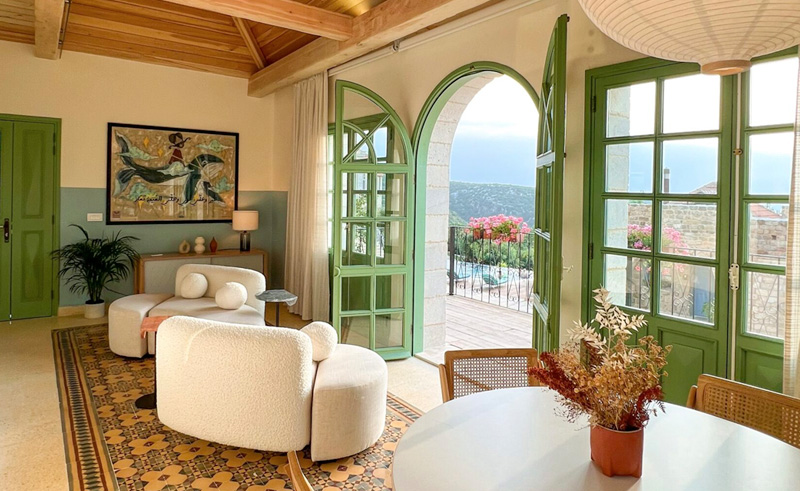 ACCOMMODATION
The 'Byout Arnaoon' (or 'houses of Arnaoon' in Arabic) boast a truly beautiful collection of bright and airy interiors, carefully curated decor and an overall grounding aesthetic. Each comes with a complimentary selection of Lebanese and international delights for breakfast.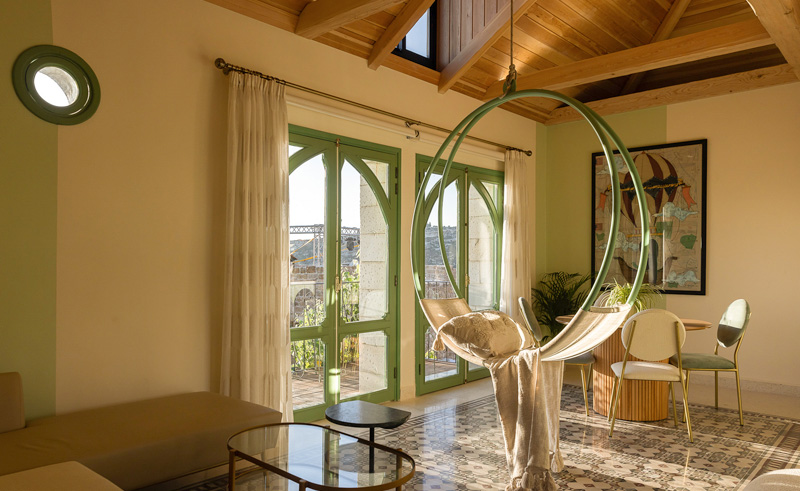 Beit Zouzou
Beit Zouzou is a colourful two-bedroom apartment with a king-size master bedroom and two single beds. A spacious balcony overlooks the verdant hillscapes of Batroun and a shared infinity pool. The space is fully-equipped with a living room, kitchenette, two bathrooms, Wi-Fi, air conditioning and bath amenities.
Beit Hala
In Beit Hala you can enjoy a private swimming pool and terrace, as well as a mountain and sea view of Batroun's western shores. This one-bed stay comes with a queen-size bed and a fireplace in the living area for cosier evenings, plus a TV and Wi-Fi.
Beit Dora
Beit Dora caught our eye at SceneTravellers for its colourful, futuristic interiors and fun purple-imbued dining space. The two-bed apartment comprises a king size bed and two singles, a kitchen, two bathrooms, a TV, Wi-Fi and air conditioning, plus a cute garden and terrace and access to the common infinity pool.
FOOD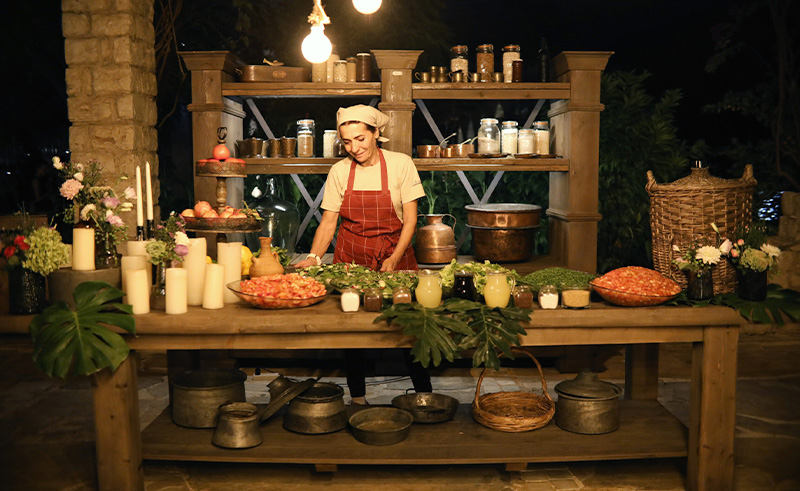 There's little to offer as a 'guide' here; every selection of food is a customised and tailored experience bringing together local and fresh ingredients. From wood-fired oven pizza to abundant colourful salads, indulgent platters of meats and cheeses and tiered cakes, there's a lot for the eyes and taste buds to feast on.
EXPLORE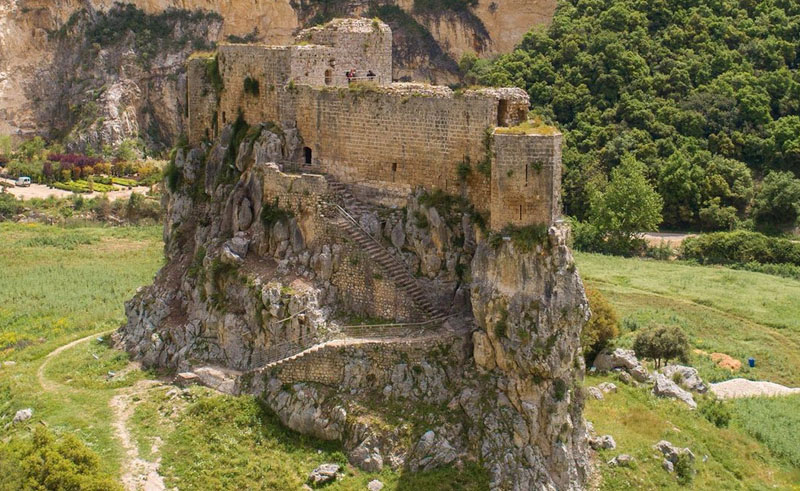 Aegis Festival
Aegis is one of the most highly-anticipated new music festivals coming to Lebanon this spring. Whilst many of Arnaoon's events are private functions, here Aegis is opening up its doors to anyone who wants to get involved in 72 hours of dancing under the sun and stars. The event will bridge together local and international DJ favourites, from Peggy Gou to Âme, across two open-air stages between 21st - 23rd April 2023, and tickets are available to grab through the ihjoz website.
Mseilha Fort
A short journey away from Arnaoon Village and perched near the Nahr el Jawz river is this stunning fortress built by Emir Fakhreddine II in the 17th century to guard the route from Tripoli to Beirut. Its walls are constructed with small sandstone blocks quarried from the nearby coast and built onto the edge of the limestone rock of Batroun.
Adventure Park
This is one of the highlights for family members both young and old, with many adventurous offerings such as a climbing wall and zip line, plus go-karting, a carousel, horse riding and Bou Nedman's Farm.
VENUES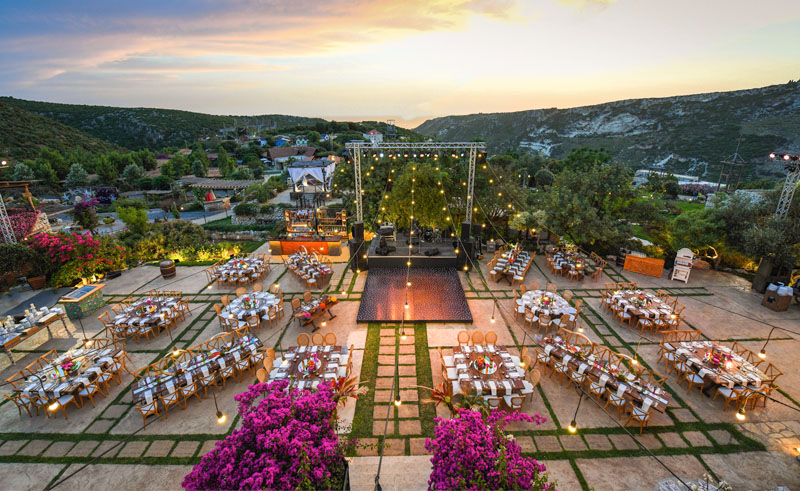 Arnanoon offers a variety of indoor and outdoor venues catering to any wedding/event style, small or big.
The Old House
This hillside pergola looks out onto a cinematic view of the green mountains.
The Arcades
We love the rural countryside feel of this one: with evergreen trees, blooming flowers and the historic archways that are characteristic of the village. It's an intricate blend of traditional and contemporary that make for ultimate elegance at an event.