Set to open in 2027, Six Senses AlUla will immerse guests in the majestic desert heritage of Saudi Arabia's first UNESCO site.
Nestled within Saudi Arabia's AlUla region, Six Senses is crafting an intimate escape destined to delight - literally and metaphorically - all five senses. Tucked amidst rose-hued sands and ochre escarpments, framed by the Al Hijaz Mountains, this luxe oasis promises to uncover a world of discovery from 2027 onwards.
"We are excited to join hands with Six Senses to open a one-of-a-kind luxury hotel in AlUla," Fabien Toscano, CEO of AlUla Development Company tells SceneTraveller. "The venture aligns with our commitment to elevating the hospitality offering in AlUla and marks another significant stride in our pursuit of sustainable development, contributing to the economic diversification and transformation of Saudi Arabia in line with Vision 2030."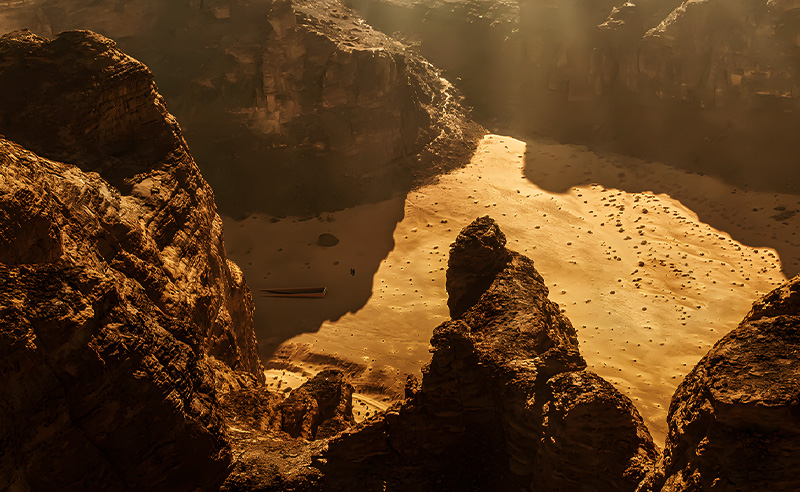 The Setting
Long before the arrival of luxury hospitality, AlUla was revered for its abundant natural treasures. Water has always flowed freely through the valley, nurturing date palms and fostering life. Even today, the verdant oasis strikes an organic harmony with ancient sites like the dramatic Jabal Al Fil (Elephant Mountain). Towering sandstone monoliths, displaying vibrant strata colours, overlook a lush wilderness framed by the craggy peaks of the Hijaz Mountains.
The hotel is conveniently located just a stone's throw away from the kingdom's oldest sites. Hegra tells the story of the Nabataean kingdom through its elaborate tomb facades, while the ancient villages of Dadan and Lihyan whisper tales of bygone trade routes. You can explore the maze-like alleys and towering defensive walls of Old AlUla, or embark on a journey to the cliff-top Madain Saleh, affectionately referred to as the 'Petra of Saudi Arabia.' From nomadic rock art to majestic landscapes that have changed little over millennia, AlUla is Saudi Arabia's best-preserved secret - a treasure trove fit for travellers seeking history, nature, and enriching escapes.
"Bringing to life the drama and beauty of a site with unprecedented historical and cultural significance is a sensational opportunity," Neil Jacobs, CEO of Six Senses tells SceneTraveller. "It inspires uncompromising sustainability, well-being, and hospitality that ignites the senses in a way that is profoundly emotional. It is exciting to be a new chapter to AlUla's legacy."
The Lodgings
Nestled within a 1,200,000 square-metre natural estate adorned with lush date palm groves, Six Senses AlUla offers 100 spacious villas and 25 stately residences that seamlessly blend with the natural surroundings. The architectural design pays homage to the desert heritage with understated sophistication.
As you awaken to the enchanting wildlife of the Arabian Desert, the modern interiors, featuring local stone, leather, and linen, are bathed in natural light. Drawing back the woven curtains reveals private patios with vistas of verdant valleys and the rose-tinted Hijaz mountains beyond. With an on-call butler service and all the essential comforts of home amidst the untamed splendours of Arabia, Six Senses AlUla is poised to ignite daydreams of a distant, regal, and alternate universe.
Experience the Magic of Six Senses AlUla
As sunsets transform sands into molten gold, immerse yourself in a myriad of cultural adventures in the vicinity of Six Senses AlUla. Wander ruins dappled with history, join a bedouin for sunset storytelling under the dunes, or dine among vivid rock art exhibited for millennia.
As nightfall descends, the spa beckons for a rejuvenating experience rooted in holistic Arabian therapies. Guests can indulge in soulful sound baths and meditative practices, where skilled therapists ease travel-weary muscles with locally-inspired massages. Those seeking a more transcendental journey can partake in yoga sessions beneath the stars or engage in private astrology sessions under the mystical desert skies.
As night trickles in and the hunger pangs settle, Six Senses AlUla's executive chef curates open-fire cuisine, using ingredients sourced from the estate's permaculture gardens. Diners can relish their meals outdoors against the backdrop of stunning geological formations, savouring seasonal specialties while enveloped in the ambiance of millennia-old rock art gently illuminated by candlelight.
With its anticipated debut in 2027, Six Senses AlUla is poised to reveal the mystery and rich heritage of Arabia to contemporary travellers, offering an exceptional desert escape that speaks to both the soul and the senses.