From the Red Sea to rich sands, these future green hotels and resorts are leading the Kingdom's shift to eco-friendly tourism.
With ambitious projects like NEOM and the Red Sea Development planned as model communities for eco-friendly living and regeneration, the Kingdom of Saudi Arabia is nurturing a growing emphasis on green principles of conservation, renewable energy and carbon neutrality within its hospitality sector.
As the Kingdom diversifies its economy and transitions away from oil dependence, industries like tourism are being developed as a priority. However, with the realm's natural beauty and heritage sites forming prime attractions, there is recognition that maximising visitor numbers must avoid damaging vulnerable ecosystems, paving the way for sustainable, eco-friendly practices.
From the Red Sea coast to the archaeologically rich sands, here's a peek at some of the sustainable accommodations coming up on the horizon that are leading the shift toward more responsible touristic stays…
Six Senses Southern Dunes
Hijaz Mountains, The Red Sea
Now operating in its first phase, Six Senses Southern Dunes sets the standard as the first LEED Platinum resort in Saudi Arabia. Powered completely by solar energy with architectural designs minimising energy usage, the property demonstrates a dedication to preservation through efficient systems like thermal energy storage, electric transportation, and intelligent automation across its facilities.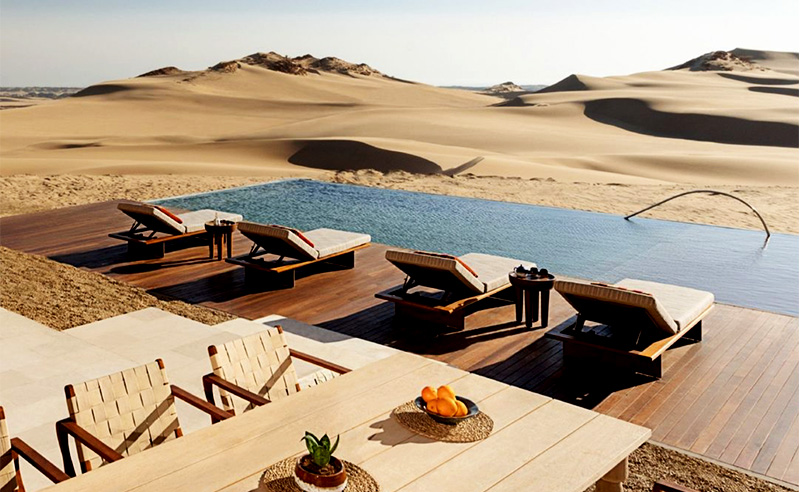 ENVI Laguna Bay
King Abdullah Economic City, The Red Sea
Situated along the pristine coastline of King Abdullah Economic City, ENVI Laguna Bay will comprise 40 private beach pods and facilities focused on wellness and family activities. The sustainable lodge is scheduled to open in 2024 after being developed by Al Rasim Hotels & Resorts. Mangrove restoration will be undertaken as part of the ecolodge's sustainability practices.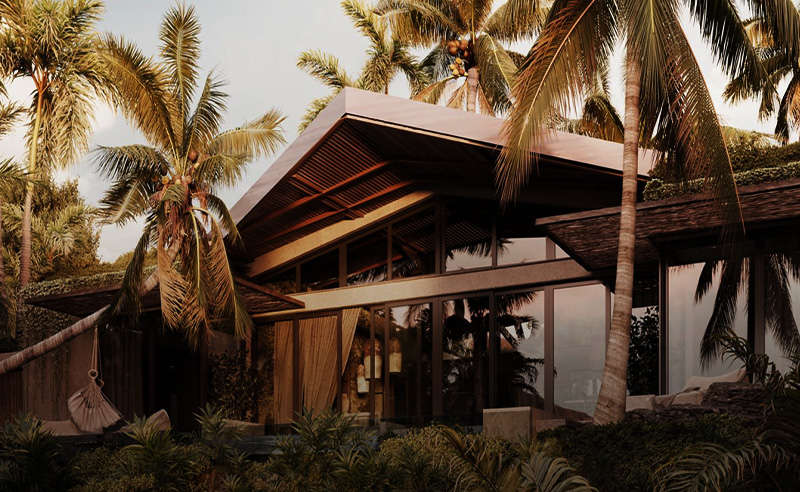 Hampton by Hilton NEOM
NEOM
Slated to open by the end of 2023, the 201-room Hampton by Hilton NEOM will be the brand's first hotel within the futuristic megacity. Developed by Cayan Group and designed sustainably, the 8,200 square metre property located in the NEOM community promises a commitment to sustainability and the utilisation of energy-efficient systems.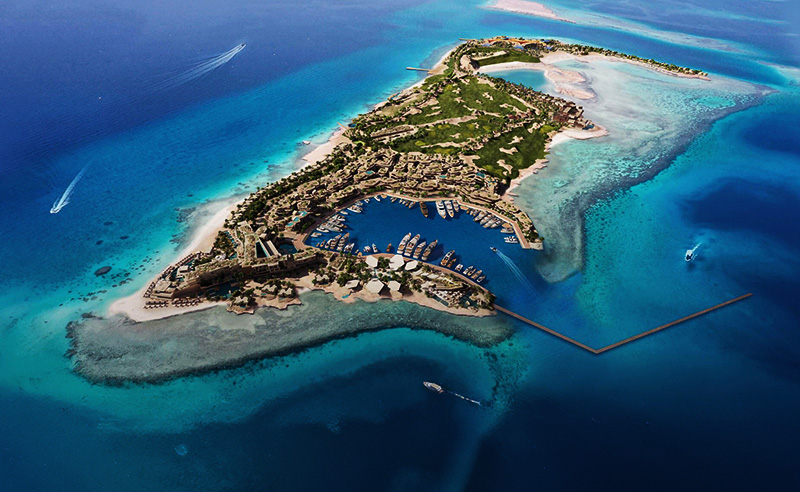 Grand Hyatt Red Sea
Shurayah Island, The Red Sea
With a unique "coral bloom" design seamlessly blending architecture with the natural environment, the Grand Hyatt Red Sea is committed to preserving biodiversity through renewable energy use and zero emissions transportation across its facilities.
Rosewood Amaala
Amaala Rosewood
Amaala exemplifies regenerative hospitality through its protection of local ecosystems and commitment to wellness across 110 rooms and suites. As part of Amaala, the wellness-centred project pursuing active restoration and 100% renewable resources to eliminate its carbon footprint, the resort promises sustainability infused in every detail.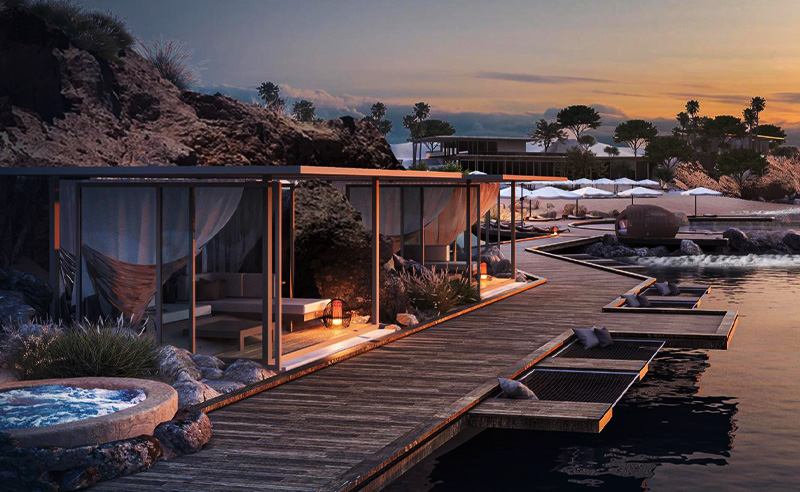 Dar Tantora
Old Town, AlUla
A boutique hotel with a sustainable twist, Dar Tantora repurposes mud-brick buildings, preserving the area's heritage and incorporating the skills of local artisans, who combine traditional aesthetics with contemporary engineering.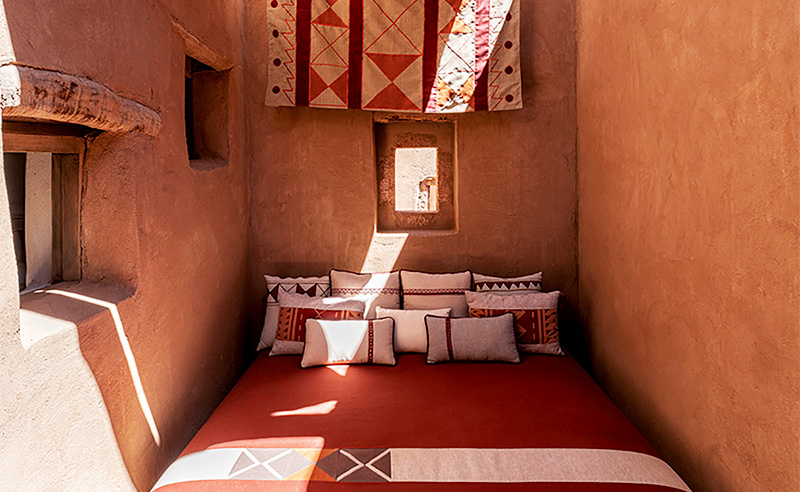 Sharaan by Jean Nouvel
AlUla
Being built directly into the ancient mountains of the Sharaan Nature Reserve, the luxury resort aims to be a zero water waste sustainable haven. The resort plans to minimise the use of potable water and recycle all treatable wastewater for irrigation and other purposes, bringing a touch of modernity to the historic site.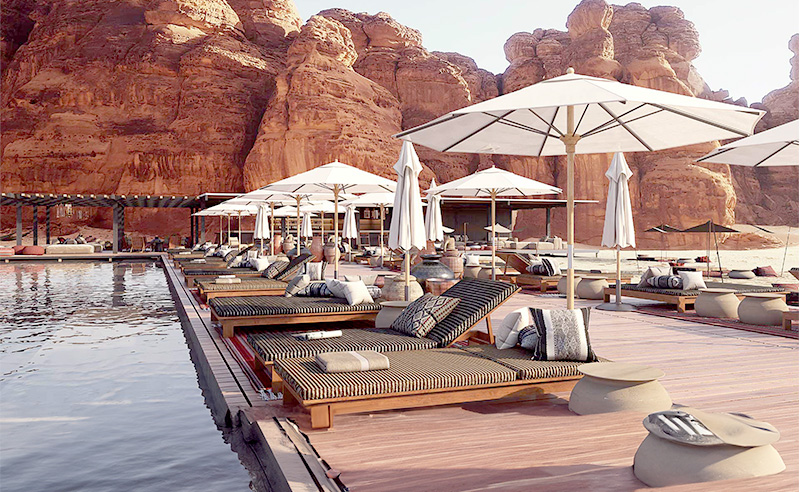 Clinique La Prairie Health Resort
Amaala
Set to operate on 100% renewable energy, the Clinique La Prairie Health Resort in Amaala spans 36,115 square metres and provides advanced medical services and next-generation therapies. Its eco-conscious approach extends to protecting the Red Sea's natural habitat and night sky, with the property's lighting architecture designed to limit the impact of artificial light on the surrounding wildlife.