Multidisciplinary artist Mohammad Alfaraj explores Jeddah's vibrant layers in 'The Face of the City' at Hayy Jameel.
As the city's public spaces evolve in tandem with its people, its walls and facades embody its people's characteristics, dreams and anxieties. With the wall as a metaphor for a multifaceted and ever-changing 'face', multidisciplinary artist Mohammad Alfaraj explores Jeddah's vibrant layers in 'The Face of the City'.
In an artistic proposal titled 'The Face of the City,' Mohammad Alfaraj reimagines the façade as a platform for self-expression, inspired by the way the walls of a city can represent its history and also serve as a canvas for its inhabitants' creativity.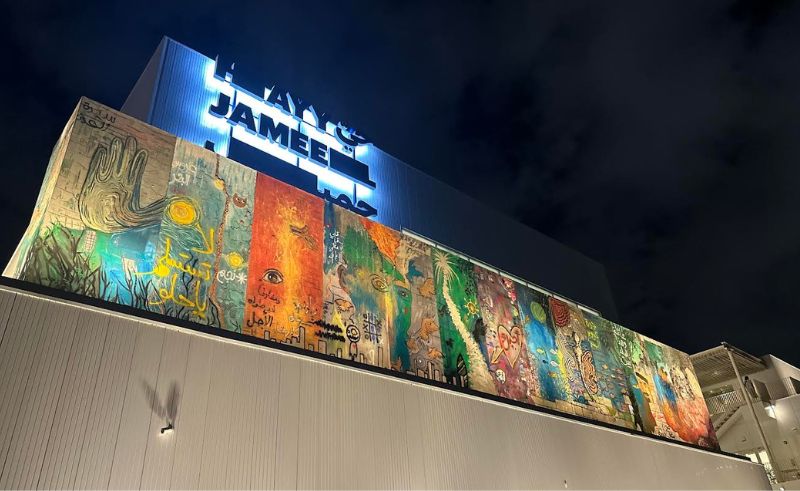 Alfaraj quickly swaps between artistic mediums, carving out a space for poetry, installations, performance and cinema within each of his projects and with this holistic approach he steps away from becoming the sole voice within his artistic endeavours as well. As he navigates cities with walls constantly piquing his interest and lens, Alfaraj designed a canvas embodying Jeddah's public facades, with their symbols, documenting and archiving the city's presence.
The design then worked as a 26-metre colouring book, circling Hayy Jameel, as 2023's Hayy Jameel Façade Commission, which is an annual programme that gives one artist the opportunity to develop a major public work for the 25-metre "canvas" on the front of the building.
"I wanted to challenge this ego-driven approach to art, this 'rock star' persona ascribed onto artists, by having as many contributors and voices included as possible," Alfaraj tells SceneNowSaudi. "We included a list of 100 contributing artists all credited next to the installation."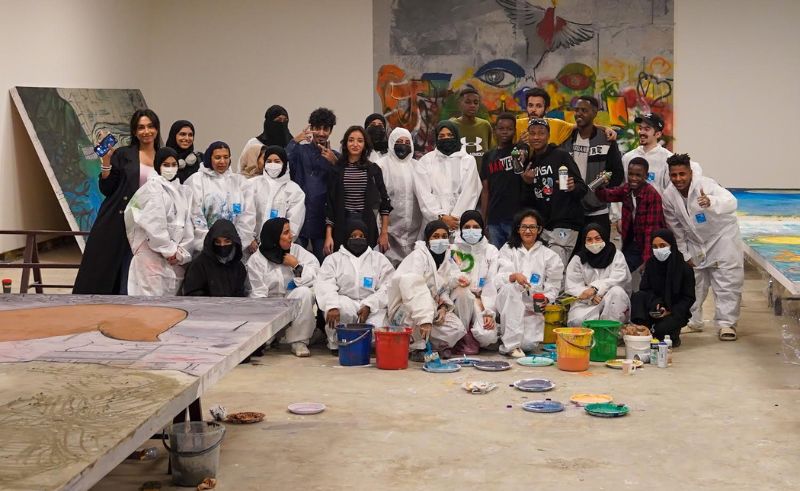 The project prioritises community involvement, with Alfaraj collaborating with facilitators and volunteers from various backgrounds in Jeddah, with whom he has previously worked, which he feels created a collective sense of ownership to the piece, symbolising the collective ownership and perspectives of the city.
"I have a longstanding relationship with Jeddah, and I've been visiting the city since 2015 and this commission felt like an opportunity to give back to the city and its people. And walls are the face of the city, you can identify its character and history through this messy space and they often represent a range of contradicting emotions," Alfaraj adds. Alfaraj intentionally challenges the institutionalisation of art, distributing a portion of the project's grant to volunteer artists who participated through a public open call.
The installation was unveiled in mid-January 2023 and will be on display for the rest of the year, showcasing the diverse voices and perspectives of Jeddah's residents.