Travelling, whether in ancient or contemporary times, has always been about seeking new stories, peoples and experiences. So, if you're planning to travel somewhere within the Middle East and North Africa, why not stay in a hotel that has kept its history alive?
From designer homes turned boutique hotels, like Yves Saint Laurent's Villa Mabrouka and royal abodes such as Winston Churchill's favourite La Mamounia in Tangier, to Lebanese family estate reimagined as Levantine escapes, these renovated stays have maintained the stories of their original structures while imbuing them with the region's spirit of hospitality.
The Ned | Qatar
A brutalist building that once housed Qatar's Ministry of Interior, The Ned was renovated by David Chipperfield Architects into a glamorous stay with vintage interiors, allowing travellers to stay at one of Doha's historical landmarks.
Originally designed in the 1970s by Lebanese architect William Sednaoui, the government building frames most of The Ned's more contemporary experiences with its sculptural silhouette. Soft modern decor sits underneath waffled concrete ceilings and the podium is flanked by green oases on both sides.
Soft fabrics, bold patterns and Murano glass sit underneath the original waffled concrete ceilings. The rooms exude 1970s glamour, with vintage relics such as rotary-dial phones by the bedside, TVs hidden behind local tapestries and retro radios.
Terrazzo terraces, which are covered by the building's bold canopy's ribs, offer panoramic views of the Arabian sea and the Amiri Diwan Palace, where camels trot about throughout the day.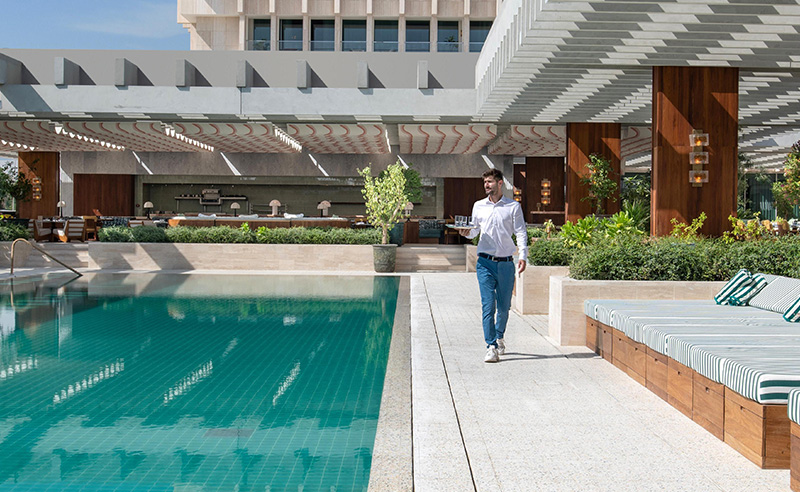 Fairmont Tazi Palace | Morocco
Sitting atop the hills of Tangier, the former royal palace opened in 2022 as the Fairmont Tazi Palace dates back to the 1920s. It belonged to one of the King of Morocco's advisors and has been restored to reflect the local artisanal culture, complemented by modern decorations.
The palace's Arab-Andalusian architecture was maintained, and the interiors are as regal as they are relaxing. The lobby exudes calm with cream-coloured walls while the 133 bedrooms, suites and penthouse offer portals into Morocco's craft traditions.
All four of Fairmont Tazi Palace's restaurants use ingredients from the hotel's orchard and garden, which features eucalyptus trees, palm, olive, citrus and pomegranate groves.
Whether it's the lush landscape, the picture-worthy swimming pool or the palace's wellness centre, the renovation ensured that luxury travellers will lose track of time by the Mediterranean.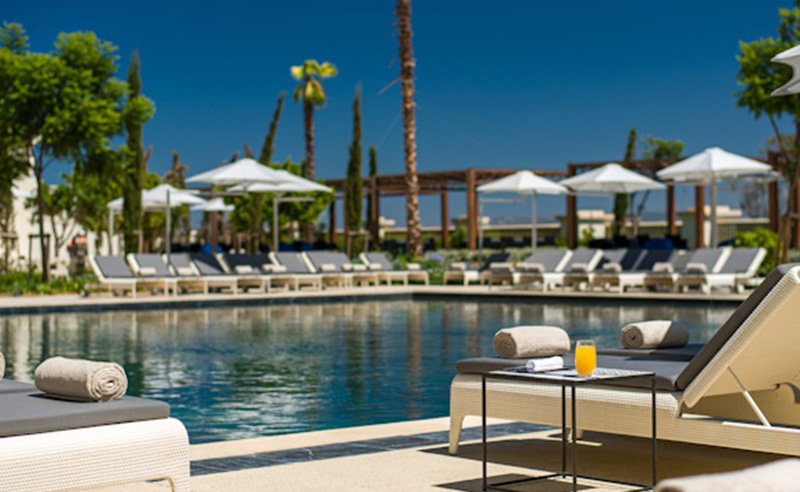 Chedi Al Bait | UAE
Once occupied by local families, the seven heritage houses that now make up The Chedi Al Bait offer travellers a refined stay in the heart of Sharjah, where Arabian heritage meets the contemporary world.
Preserving the historic structures while adding newer buildings, the manor houses were converted into a 65-key five-star hotel and resort that, above all, provide a comforting sense of home.
From the masterful carpentry and woodwork to the acts of traditional Emirati hospitality, the Chedi Al Bait acts as an emblem of Sharjah's wealth.
Across the single-storey resort, Asian aesthetics are reinterpreted with Arabic influences in a manner that presents the multifaceted nature of Sharjah's culture and history.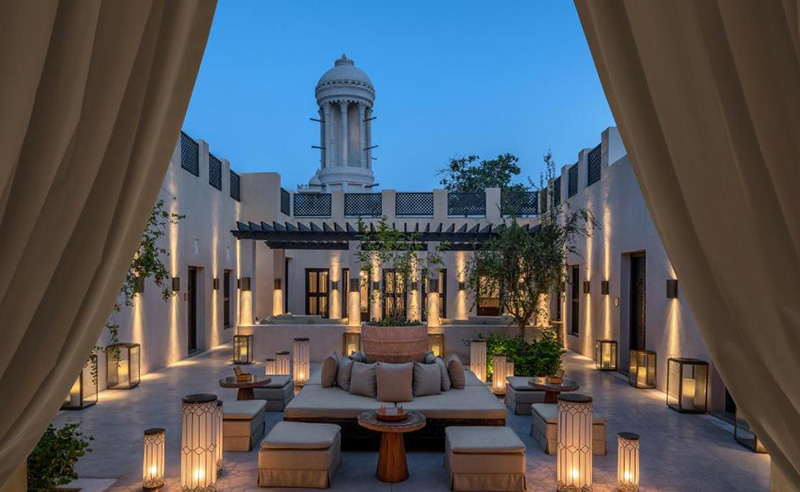 Villa Mabrouka | Morocco
At the beginning of 1990, exhausted by the chaos of Paris, Yves Saint Laurent and Pierre Bergé asked renowned French designer Jacque Grange to design Villa Mabrouka atop a hill overlooking the Strait of Gibraltar.
The villa, named after the Arabic word for 'luck', was renovated in 2017 into a hotel in honour of YSL and opened its majestic doors to travellers with 12 suites.
Inside the villa, interiors are a tasteful blend of vibrant crushed silk duvets, traditional brass-hammered coffee tables and glittering crystal chandeliers.
A blend of many styles, the villa still boasts its floor-to-ceiling windows, massive crenellated horseshoe arches and chequered marble flooring.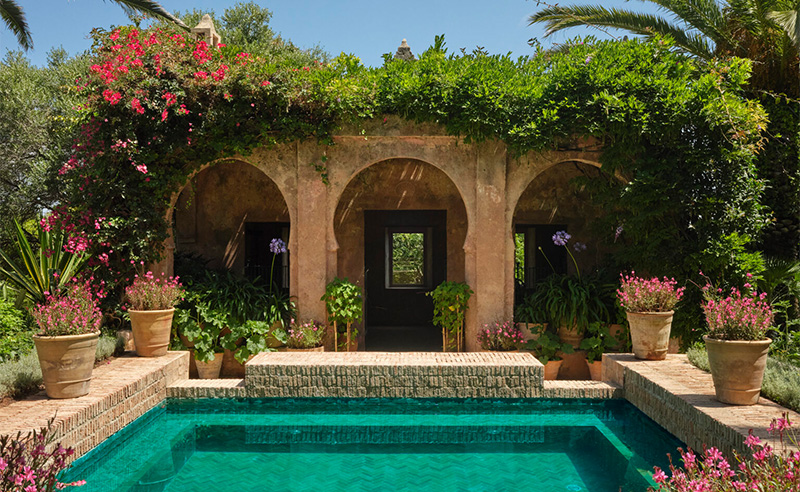 Beit Noun | Lebanon
Surrounded by ancient pine trees with a view of the Mediterranean below, Beit Noun was a family estate built between 1910 and 1935 which was reopened, after meticulous renovations, into a boutique hotel offering 13 gracious rooms.
Mia Noun, the great-granddaughter of Edouard and Isabelle Noun, who originally built the estate which would later host Lebanon's first president Bechara El Khoury, began her renovations in 2019, reimagining the family home into a plethora of soothing spaces.
Chairs are modelled after original furniture that was placed at Beit Noun almost a century ago, with a reinvented contemporary lens.
Aside from its comfortable stay, stunning pool and its own homemade delicacies store, Beit Noun also offers seasonal activities such as meditative hikes and day-picking fresh figs and olives for a true Levantine experience.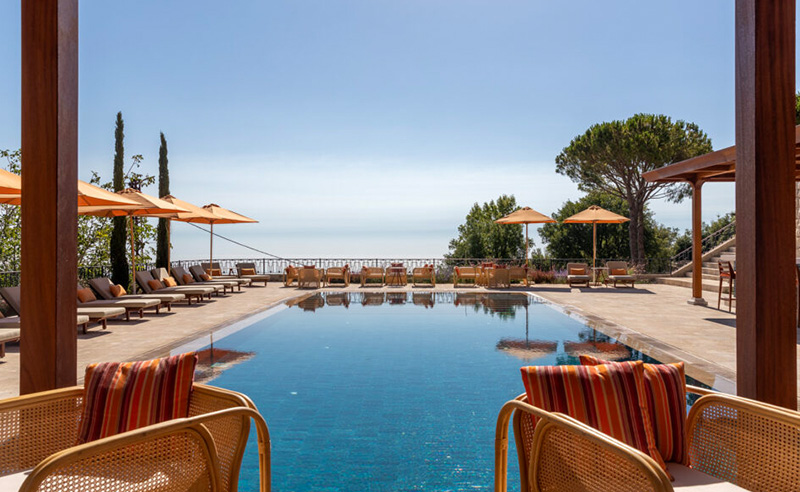 La Mamounia | Morocco
Having recently celebrated its centenary, La Mamounia first opened its doors in 1923 in the heart of Sultan Mohammed Ben Abdallah's 18-century orchard. The hotel is exactly as you'd imagine it; covered in zellij, Morocco's beautiful traditional tiles, as well as Berber rugs and Art Deco furniture.
This aesthetic medley drew the likes of Winston Churchill to view it as home away from home. The most recent renovation named a bar in homage to Churchill's frequent visits. Another 20th century leader, Charles de Gauelle, had a bed custom-built for him at La Mamounia.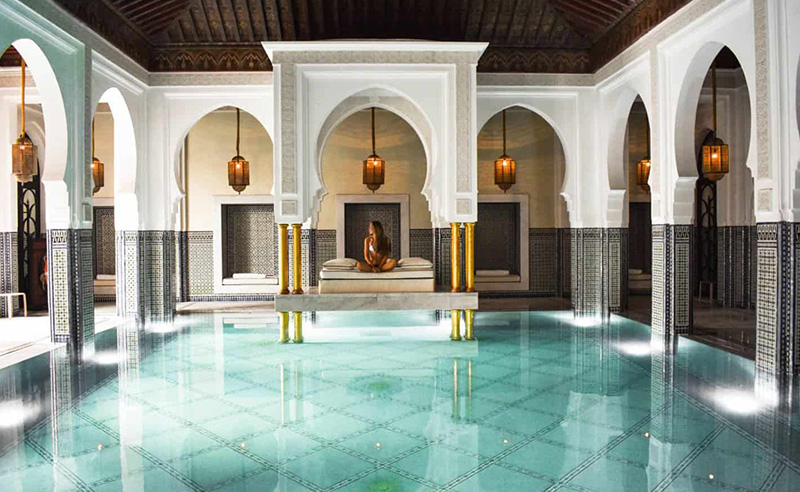 Beit El Mamlouka Hotel | Syria
Beit El Mamlouka was once a 17th-century merchant's palace before a Ph.D thesis on Islamic art enabled it to become renovated into a boutique hotel, with eight rooms covered by painted wooden ceilings, golden inscriptions and black basalt and white limestone bricks.
With rooftop views of the Umayyad Mosque, Orthodox churches and a 17th century bath house across the narrow cobbled street inside the ancient walled city, Beit El Mamluka sits comfortably between 17th century opulence and 21st century convenience, as all of the aforementioned visual stimulants coexist with underfloor heating, air conditioning and Wi-Fi.
Entering through a narrow portal, the courtyard drenches you with the scent of lemon and jasmine with a marble fountain at its centre. A two-centuries-old archway leads into traditional Iwans that offer momentary refuge from the sun and the opportunity for travellers to experience a way of being that today exists only in history books.
Palais Beyram | Tunisia
Fathi Bouzouita, a Paris-based jeweller and veteran traveller, fell under the spell of one of the last private palaces in Tunis Old City, his birthplace. Bouzouita purchased 'Dar-Bayram', an 18th century palace, and began to renovate it with former French Ambassador Jean-Pierre Guinhut.
Once the residence of the Hanafi Muftis of the Kingdom of Tunisia, Dar Bayram was meticulously restored to its past glory. The main entrance in the ground floor features a 'driba', a large hall with a vaulted ceiling where visitors are first admitted.
Four rooms called 'kbou' have canopy beds tucked in their corners, adorned with coffered ceilings, layers of hand-carved arabesque stuccos and a myriad of zellij. The renovation was completed in 2014, unveiling a tranquil hotel with 17 suites, each adorned with their own unique decorations.