Home to a roster of healing and wellness retreats, Al Nyhaya is comparable to that airport limbo phase whereby no real boundaries, rules and caffeine-ingestion rituals exist.
In a desperate search for respite, even the most manicured of girls abandon their cuticle oil and retinoid serum in an attempt to recalibrate atop a golden bed of sun-drenched sand. Fresh book spines bend in the face of reclusive decisions as obscure Spotify playlists dubbed 'Play This When You Swing and He Ducks' serve as the soundscape to your annual convalescence period. Between the lines riddled in proverbial language, and the heartbreak ballads sellotaping emotional bullet wounds closed, lies a scintillating sensation that something outside the sloppy margins awaits. Whilst tearing oneself from Lana Del Rey's lyrical grip is often a feat for the brave, Al Nyhaya, a serene glamping resort encircling Siwa's Great Sand Sea, is slowly unravelling the chainlink, ultimately ushering in visitors from all around the world.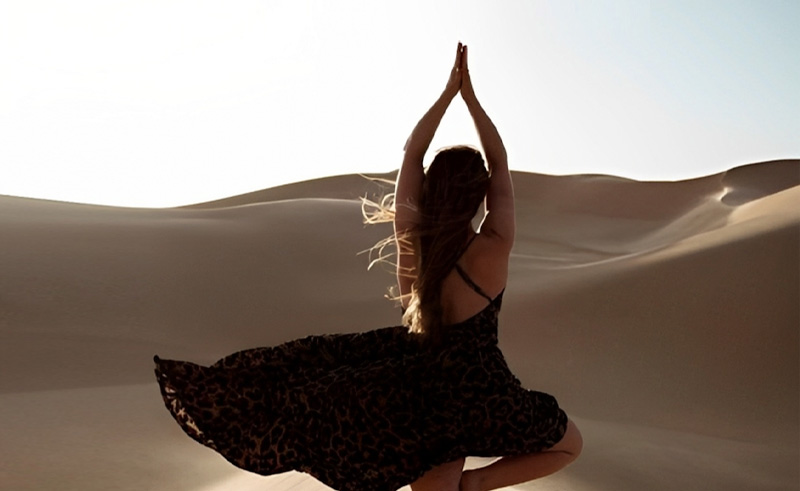 Tearing through the monotony of city life, Siwa's Al Nyhaya is a 500 metre long getaway nestled between the dunes of the Great Sand Sea. Situated atop a rock plateau in the middle of the Egyptian Western desert, clusters of tents and dining options elegantly line its parameters as a private pool glimmers beneath the oasis' prismatic sunsets. Home to a roster of healing and wellness retreats, Al Nyhaya is comparable to that airport limbo phase whereby no real boundaries, rules and caffeine-ingestion rituals exist. It's synonymous with the six hour layovers cradled between alien lands whereby current accounts - and in turn victimised pay checks - cease to signify livelihoods and rent payments. A true escape, Al Nyhaya overturns the cliche-d wellness connotations evoked through years of essential oil-induced damages and provides a private hideout that speaks to the Emily Dickinson-adjacent girlies amongst us.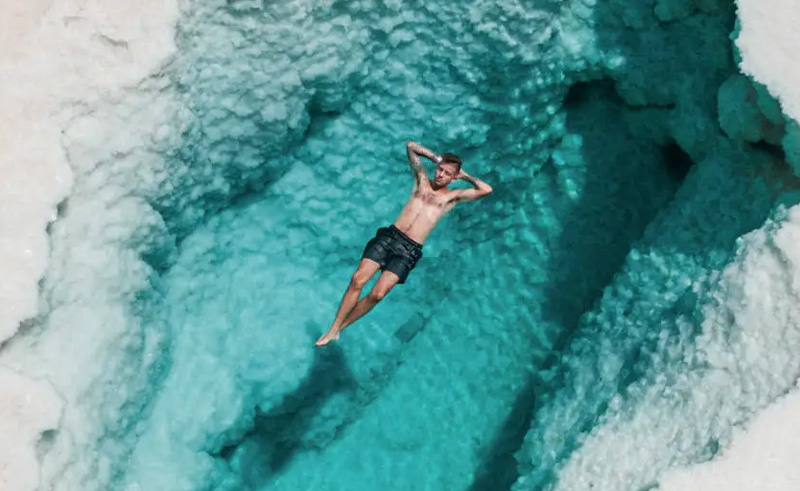 An epiphany of sorts, El Sayed's experiential destination came about as an offshoot of pure admiration. "Growing up in Amsterdam, I always loved going to and exploring Egypt," Sylvester El Sayed, owner of Al Nyhaya, tells SceneTraveller. "When I discovered Siwa and the Great Sand Sea, I became very passionate about this region." Whilst Siwa's landscape is not by any means in close geographical proximity to where El Sayed was brought up, the place engraved a home in his heart; one that ultimately pervades his psyche.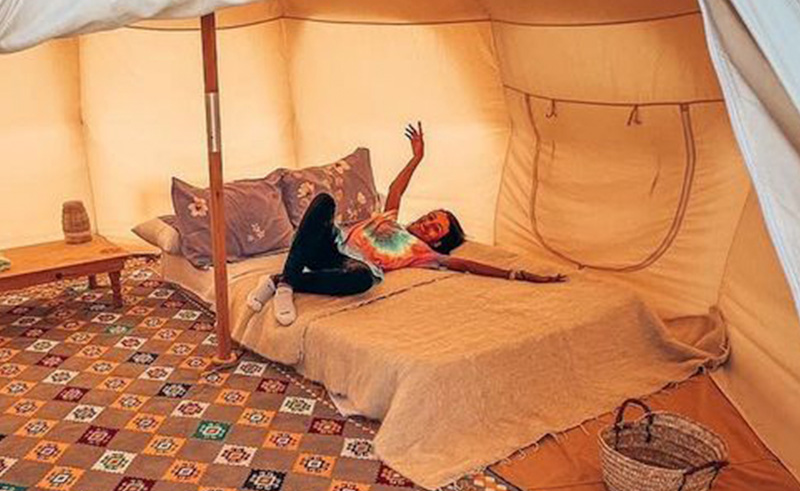 "I wanted to introduce and share this gem to and with people from abroad who otherwise wouldn't easily get there," El Sayed continues. "Especially the once-in-a-lifetime experiences the Great Sand Sea provides, which are undoubtedly unlike anywhere else in the world. And for me, being able to provide a unique place where people can comfortably stay and enjoy all that this remote part of Egypt has to offer is a great pleasure and honour."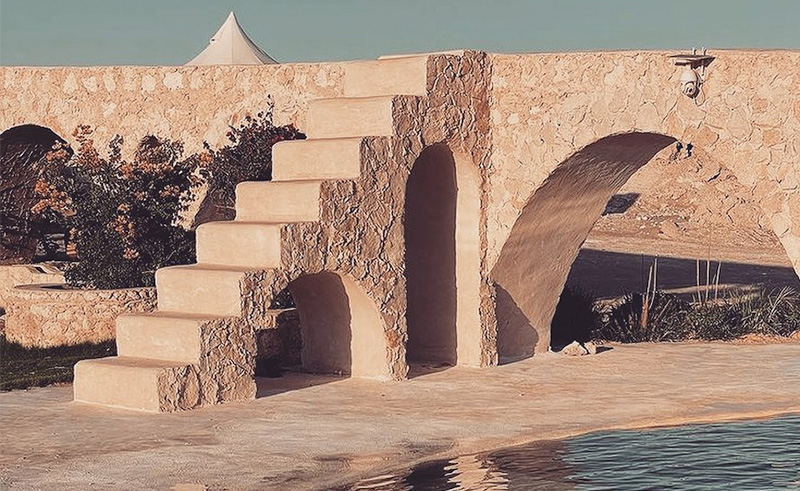 El Sayed's initiative is an actualisation of what he feels towards the area. It's a real-life manifestation of the emotions catalysed upon originally exploring Siwa and an open invitation to others to embroil themselves in the same sentiments that propelled his own vision. Understanding the complexities of the mission he encumbered, El Sayed began opening the retreat's doors to more than just newly-weds and couples looking to entertain travel blogger daydreams riddled in valencia filters.El Sayed regularly collaborates with global influencers to, yes, spotlight Al Nyhaya, but also sow seeds of love for the place currently closest to his heart.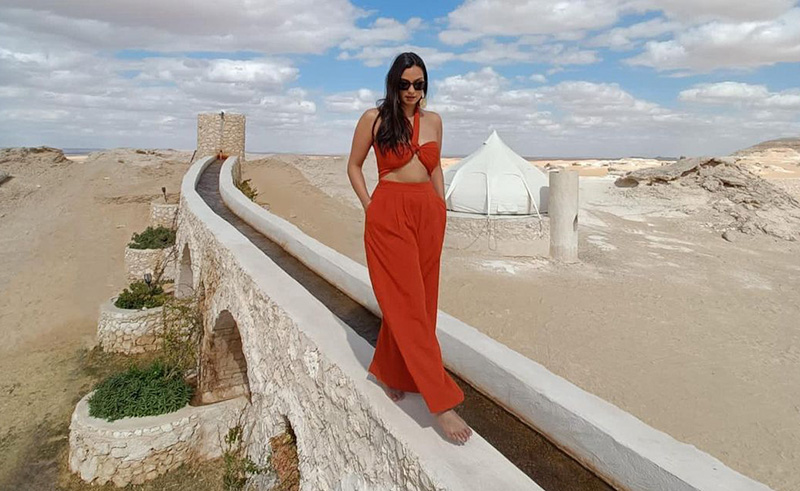 "I regularly invite content creators and influencers from mainly Europe and the US in order to help shed light on this amazing part of our country," El Sayed explains. "With Max, Mai and Mama Wafae, things went a bit different than expected though. Besides the fact that they made truly amazing content for Al Nyhaya and the region, it didn't feel like a collaboration at all. All of us were having such a great time together and I know for fact that from now on Siwa, Al Nyhaya and the Great Sand Sea are in their hearts but also somewhere right at the top of their list for Egyptian destinations."
A true labour of love, Al Nyhaya outpaced the proverbial texts riddling one's year of rest and relaxation to fully deliver experiences that intimately reconnect visitors with spellbinding landscapes. Perhaps, it is worth the dull nail beds and retinoid-free skin. Maybe the detoxification of sour love ballads from one's system can be remedied through a weekend perched atop aurous dunes and sound baths that harbour no bitter lyrics.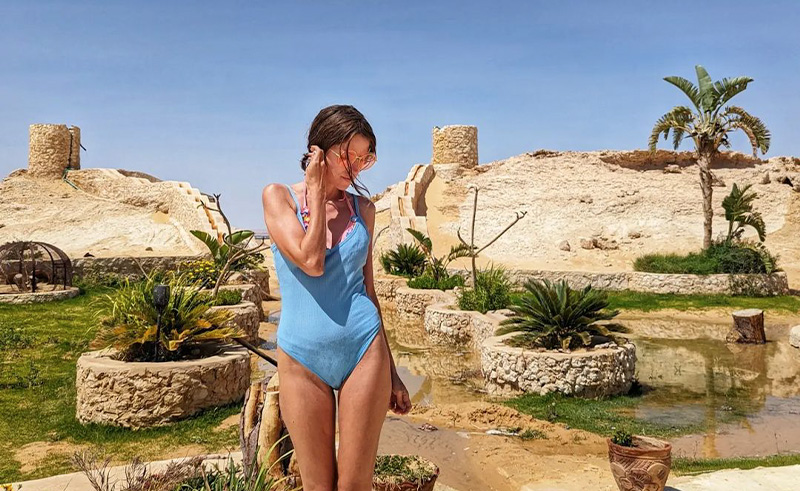 "The Al Nyhaya vision for the future is to sustainably develop and promote this region as one of the best travel destinations in Egypt," El Sayed says. "We hope to contribute by continuing to invest in one-of-a-kind accommodation and introducing the world to breathtaking experiences, amazing people, great culture and, of course, Egypt's natural treasures. And for this we would love to continue to collaborate in order to assure that this part of Egypt reaches its well deserved potential."
The retreat's lush glamping experience stands testament to the notion that a harmonious blend of eco-conscious yet luxurious escapes do, in fact, exist. The word tent no longer evokes a visceral - perhaps even guttural - response. Instead, a series of picturesque snapshots of sundresses, patterned bandanas and sun kissed shoulders glisten into fruition. At times, they're followed by tea-tree scented soaps, wooden combs and bamboo toothbrushes, but then again, who can say no to travel sized accoutrements?