At the threshold of this enchanting villa, you're greeted by a whimsical spectacle—an array of giant animal sculptures that appear to have sprung to life from the pages of a storybook. A towering sheep stands watchful beside a glistening pool, orangutans playfully swing from living room chandeliers frozen in motion, and an oversized giraffe leans inquisitively over the dining room table.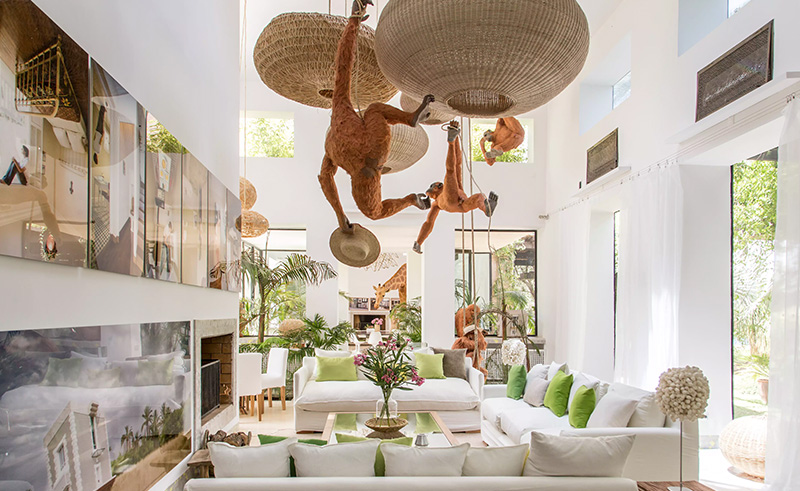 Nestled within a sprawling twenty-five-acre private domain in the Marrakech Palmeraie, Dar El Sadaka is an exclusive retreat that welcomes a few select guests year-round. The story of Dar El Sadaka unfolds through art, philanthropy, and a pursuit of beauty and connection. Originally a fortified farm, Dar El Sadaka's purpose evolved over the years. It once served as a haven for artists, providing a canvas for creativity to flourish within its ancient walls. Later, it transformed into the heart of a humanitarian foundation, reaching out to the women and children of the Marrakech region.
In the year 2000, collaborating with designer Philippe Forrestier, French visual artist Jean-François Fourtou orchestrated a transformation of the villa as he took residence in it. What emerged was nothing short of magnificent—a guesthouse where luxury and comfort intermingle with uniqueness and fantasy. A place where art is not confined to galleries but seamlessly integrated into every actual corner (and ceiling) of the retreat.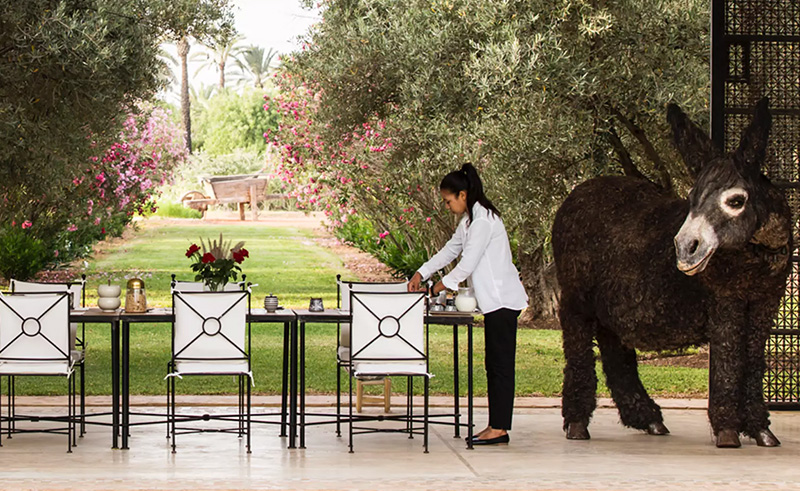 'Sadaka', a word that resonates with both Sanskrit and Arabic, embodies the essence of Dar El Sadaka. It means "the one who seeks" in Sanskrit and "friendship" in Arabic—a fitting description for a place that beckons seekers of beauty, solace, and connection.
From the moment you set foot on this enchanting domain, you are greeted by art that defies convention. Sculptures of animals, both realistic and whimsical, inhabit the grounds. Venturing into the sculpture park, you encounter monumental installations that challenge the ordinary. A mud house in ruins transforms into an enormous 'Ant-Nest,' a house appears 'Fallen from the Sky,' and 'The Giant's House' defies proportion.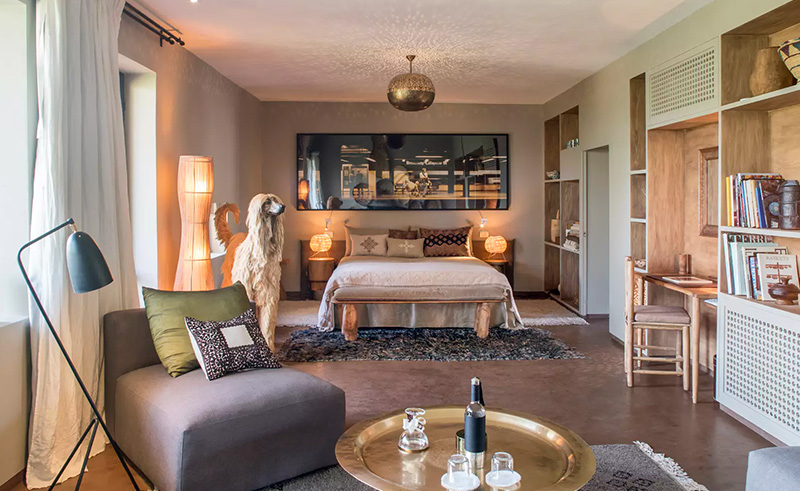 Every corner of Dar El Sadaka is a canvas, with each room exploring the theme of an animal sculpture. Traditional earthen architecture meets sleek furniture, and local craftsmanship fuses with contemporary design. Each suite and bedroom bears the imprint of artistry, ensuring that no two experiences are alike. As Jean-François Fourtou aptly puts it, "Dar El Sadaka is a truly unique and magical domain, where everything is taken care of to ensure a feeling of well-being and comfort."
With its nine individually themed suites and bedrooms - with each suite coming with its own furry friend theme, the villa can accommodate up to twenty guests, making it an ideal destination for both intimate getaways and gatherings with family and friends. From the Giraffes Suite on the second floor, offering stunning views and a terrace with a bathtub, to the ground-floor Tortoises Suite with a private garden, the lofty Donkey suite, and king-sized camel suite, every room offers a distinctive and immersive experience. And if perhaps your soul seeks a slower-paced stay, we'd recommend the Snails bedroom on the first floor - Ha, ha.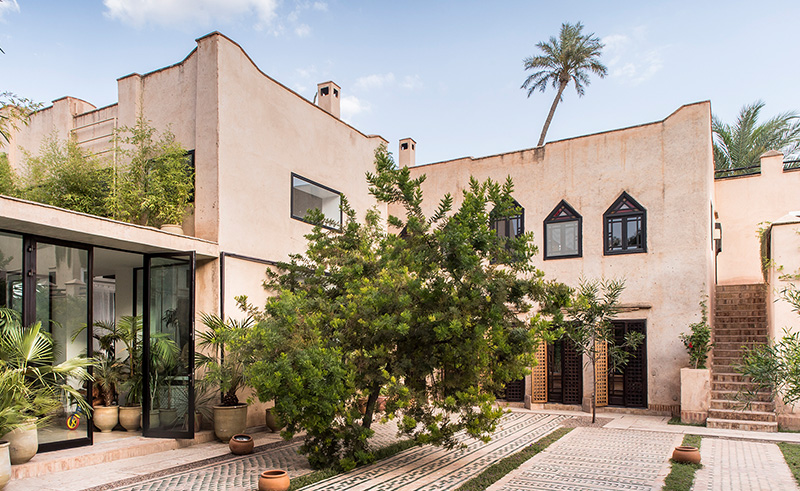 The villa is fully staffed, providing all-around services and a wide range of experiences tailored to guests' preferences. The house chef and culinary team prepare all meals with the highest quality, fresh produce, ensuring that your Mediterranean desires are met. Additionally, the villa features a library, cinema room, gym, massage rooms, a hammam, and a ping-pong table for relaxation and recreation. The lush gardens surrounding the villa include a heptagonal pool at the center, with daybeds and comfortable sofas in the shade, all overseen by a charming giant sheep sculpture as well as Jean-François Fourtou's sculpture park.
Dar El Sadaka's location in the Marrakech Palmeraie provides a serene oasis just a 20-minute drive from the city center and a 25-minute journey to and from Menara Airport.
Jean-François Fourtou, the creative genius behind Dar El Sadaka, is a visual artist known for his unique sculptures. Inspired by childhood memories and his own experiences, his art has been exhibited around the globe, evoking a world that is half-magical and half-remembered.