With a design inspired by defence ships, UAE One includes almost every amenity imaginable within an ambiance of calm and tranquillity.
Step aboard the luxurious UAE One, where opulence meets exclusivity in a stunning 140-metre superyacht. With a design inspired by defence ships, the vessel's exterior boasts curved lines, tinted mirrored windows, and a bold militant style that ensures privacy and a sense of grandeur.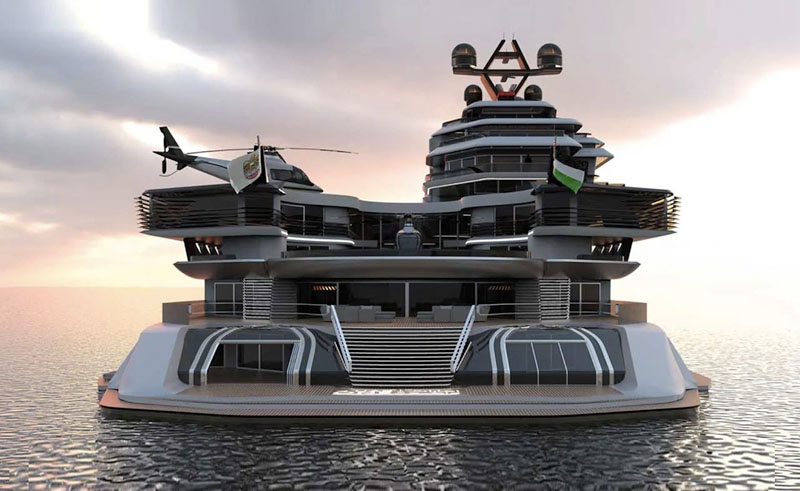 Upon boarding, guests will be captivated by the expansive circular deck space, complete with an 18-metre swimming pool and wellness centre, providing the ultimate oasis of relaxation and rejuvenation. While the interiors of UAE One are currently under development, the vessel's eight master cabins, 14 mini-suites, and single owner's suite have been designed with plush textures, warm lighting, and an ambiance of sophistication and elegance that will leave guests in awe.
For those looking to host international meetings and gatherings, UAE One offers three additional meeting rooms and a press area, making it an ideal location for any business function. The vessel's two helipads are perfect for foreign delegates, while the expansive circular deck space provides the perfect backdrop for hosting grand events.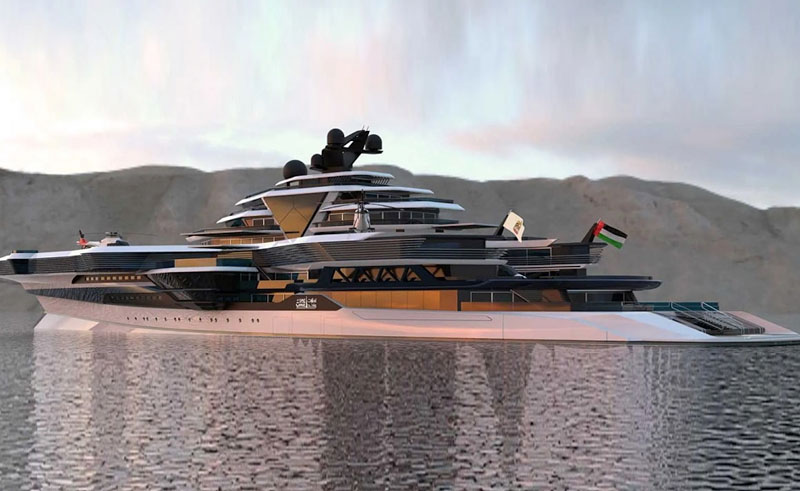 The mini-internal port for tenders and a submarine is a unique feature that sets UAE One apart, providing guests with a discreet and seamless mode of transportation. The crew quarters offer spacious accommodations for a staff of 65, ensuring that every guest's need is met with the utmost attention to detail.
The circular design of UAE One allows for natural light to flood the interiors, creating an ambiance of calm and tranquillity. The huge circular sofa located at the bow offers 360-degree views of the surrounding beauty, while the exterior lounging areas offer privacy and comfort, making it the ultimate escape for those seeking a luxurious and sophisticated experience.